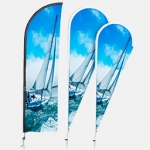 BEACHFLAGS
Beachflags are promotional tools easily distinguishable from other means of advertisement. They are basically flags, supplied with a flagpole on left or right side of the flag, inserted in a tunnel. This simple product has a number of benefits: it has pleasant, non-disturbing appearance, offers large, printed advertising area for a small cost. They are easy to transport as they come in convenient carry bags. They are also easy to build and dismantle.
We have been selling beachflags for years and it is safe to say, we specialize in printing them. Our offer includes standard and aluminium version in feather and teardrop shape, as well as square beachflags, in rectangular shape. There are various bases recommended for each type, however they are all changeable, to allow in and outdoors use. For indoor b.flags, we can offer print to fire-retardant Polyglans 115g B1 or double-sided print.
Please have a look at our range of products below and feel free to contact us.