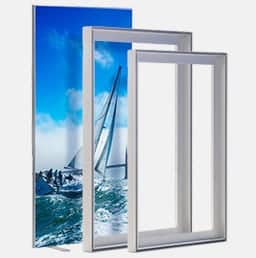 FRAMES
We know how important individual approach is. With our choice of frames you can brand your office, shop, exhibition or trade show with ease.
Our Eco and Business aluminium frames are elegant and non-disturbing, regardless if you mount them on a wall, or stand free on the ground. For some, the complete aluminium frame looks nearly frameless. They can be tailored to any size, even wider than 300cm, to meet all requirements. Stretch graphics are printed to different types of materials and finished with silicone tape, which makes the artwork easily replaceable. Business aluframe can have print on both sides, with use of décor black back 250g B1 and metal feet it can be used as a partition wall.
Looking for lightboxes? We offer LED versions, both single and double-sided as well.
Would you like to put a large photograph on a wall? Please see our solution of wooden frames with print to canvas-resembling Polycanvas 270g, printed with photographic quality. It will work as a gift or decoration at home, shop or office. They are delivered already mounted, ready to hang on a wall immediately after unpacking.
Please have a look at our range of products below and feel free to contact us.