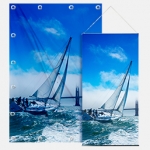 Printed banners are most common advertising and communication tools. In our offer you can find both textile and PVC banners, including banners made of certified flame-retardant materials. Digital printing technology that is used in our factory allows us to transfer our customers' most complex visual projects onto different fabrics. As a final touch you may choose between standard or custom-made finishing.
Backdrops are most commonly used during mass events or as an eye-catching interior or exterior advertisement. Having our customers' best interest in mind, we also offer an array of certified flame-retardant materials to ensure safety during music events, concerts, festivals, in museums and theaters, etc.
Please have a look at our products range below and feel free to contact us.